17 Sep 2022
Registered Nurse Dubai UAE
Position: Registered Nurse
Date posted: 2022-09-17
Industry: healthcare
Employment type: Full Time
Experience: 3 to 5 year
Qualification: Bachelor's Degree in Nursing
Salary: AED 5000 to 10000
Location: Dubai, United Arab Emirates
Company: Fakeeh University Hospital
Description:
Are you a Registered Nurse with experience in ICU/ NICU/ Operation Theater/ Endoscopy/ Obstetrics & Gynecology/ Medical & Surgical? Are you looking for a new challenge?
If the answer is YES! Fakeeh University Hospital is inviting you to our Nursing Open Day.
Hiring Nurse for the following units
ICU
NICU
Operation Theater
Endoscopy
Obstetrics and Gynecology
Medical and surgical
Long Term Care
Requirements
You must hold a Bachelor's Degree in Nursing with over 3-5 years of post-qualification experience in the above specialties and active DHA License/Eligibility.
UAE Experience desired
Please bring a paper copy of your recent CV and your DHA license/Eligibility letter as a preliminary interview may be conducted.
Please note we will ONLY consider applicants in the required specialties mentioned above.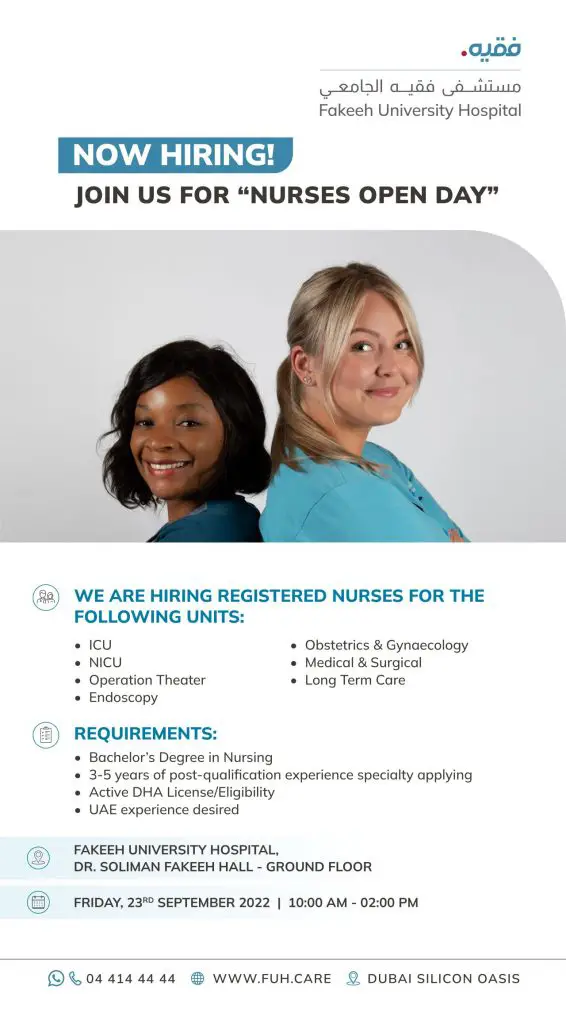 We are keen to meet you on Friday 23rd September 2022 between 10:00 a.m. till 2:00 p.m.,
at Fakeeh University Hospital, Dr. Soliman Fakeeh Hall, Dubai Silicon Oasis, Dubai.