25 Aug 2021
Architecture Bim Modelers and Structure BIM Modelers Dubai UAE
Position: Architecture Bim Modelers and Structure BIM Modelers
Date posted: 2021-08-25
Industry: other
Employment type: Full Time
Experience: 3 to 5 year
Qualification: Bachelor's Degree is required
Salary: AED 5000 to 10000
Location: Dubai, United Arab Emirates
Company: ENGISOFT
Description:
Architecture BIM Modelers and Structure BIM Modelers – Dubai
ENGISOFT, a leading Dubai based BIM & Engineering Company is looking for Qualified Professionals to join our expanding Talent Pool immediately.
1. Architecture BIM Modelers
2. Structure BIM Modelers
Should have good knowledge in Revit
Should have Strong Experience with LOD 400 and Shop Drawings.
Should be Aware of BIM Workflow
Should be Able to work idependently
Should be Able to join immediately in UAE
Requirements:
Experience – 3 to 5 years
Expected Joining Date – Immediately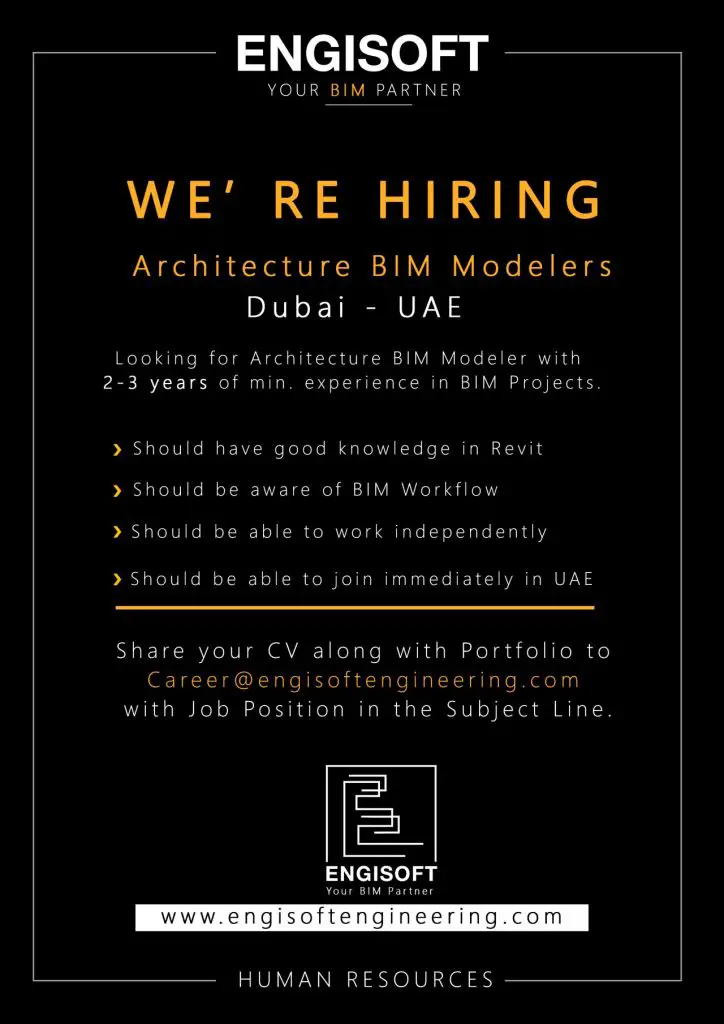 Share your CV along with these details:
1. Mobile Number:
2. Work Portfolio (if any):
Apply only if you can join immediately without any Notice Period.
Note: Make sure to keep the Job Position & Discipline in the Subject Line (eg. MEP BIM Modeler to keep your CV in consideration and Please share your CV only to the given official Email only.